Vitality Blast TV Coverage (Worldwide)
|
Looking for info on Vitality Blast TV coverage? Wondering what channels have the T20 Blast and how you can stream the matches?
T20 Blast is the domestic T20 cricket competition of England featuring 18 county cricket clubs. The competition is currently known as Vitality T20 Blast due to sponsorship reason and previously it was known as NatWest T20 Blast due to the very same reason. Unlike other T20 competitions across the world (IPL, BPL, BBL, PSL, MSL, LPL) it's not a franchise based cricket competition. T20 Blast is mainly popular due to intense hitting by the batsmen and big run chases mainly due to the shorter size of the grounds.
In this guide, we will list the broadcasting channels and online streaming options for the Vitality T20 Blast.
Vitality T20 Blast starts on usually starts in May and runs until mid-July.
We may earn a commission if you make a purchase, at no additional cost to you.
Vitality T20 Blast Broadcasters List:
| | |
| --- | --- |
| Country or Region | Broadcasting TV Channels or Online Streaming Sources |
| England | Sky Sports |
| USA | Willow Cricket (stream live on Sling TV) |
| Canada | Willow Canada |
| Australia | Fox Sports |
| Wales | Sky Sports |
| Scotland | Sky Sports |
| New Zealand | Sky Sport NZ |
| Northern Ireland | Sky Sports |
| Ireland | Sky Sports |
| India | Fan Code |
UK and Ireland:
Sky Sports is the official broadcaster of the Vitality T20 Blast in the host country England and other UK countries Wales, Northern Ireland and Scotland. The Irish viewers can also enjoy the actions live through this popular sporting network.
India and Indian Sub-Continent:
Generally, the T20 Blast is televised through Star Sports Networks in India and other Sub-Continental countries. However, due to busy schedule during 2020 edition of the Blast, the network didn't televise the competition games. Thus the viewers from the most cricket loving region in the planet had to watch the actions through the league's Official YouTube channel or the playing club's official YouTube channel. Viewers can watch many of the matches live through this option. It doesn't cost them any single penny. During a single game or two game windows, viewers can watch the single or both ongoing matches live. However, during Friday nights, when there are 7 or 8 matches played, select one, two or three matches are available to watch.
Australia and New Zealand:
The Blast matches are available live on TV in both Australia and New Zealand. The Aussies can watch it through Fox Sports while the Kiwis can catch the actions live via Sky Sport NZ.
Rest of the World:
Viewers in the other parts of the world, can also watch the Vitality T20 Blast actions live through the league's Official YouTube Channel or the playing club's YouTube Channel.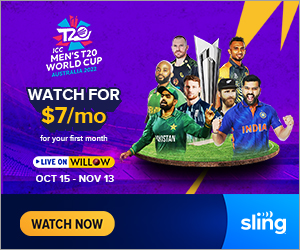 Have any questions about Vitality Blast TV coverage? Let us know by commenting below.