Peacock Review (2022): All the Pros & Cons to Know Before You Try It
|
Peacock is NBC's streaming service that offers a selection of live sports, news, and on-demand TV shows and movies with free and (dirt cheap) paid plans. But is it worth adding to your streaming arsenal? Before you sign up, check out our full Peacock review below.
Some days it feels like there are so many streaming services!
Choosing the right service or services can really overload you and make you feel like it's all too much.
Of course, the benefit to cord cutting, at least in part, is the number of choices you have. You can choose the services you want and pay what you're comfortable with.
Cord cutting allows you to tailor your entertainment to your budget better than a cable contract.
One of the newer choices on the market is Peacock. This streaming service from the folks at NBC Universal offers fair prices, ease of use, and a growing lineup that makes it worth a look.
If you're a sports fan, you'll find that for just $5 per month, Peacock offers a little bit of everything (the free plan doesn't include live sports). You can watch some regular season MLB and NFL games and bigger events like the Tour de France. WWE regularly televised events are included, too.
If you're interested in more than sports, you'll find popular and classic TV and some of the best movie franchises of all time. There's also some original content, too.
While Peacock probably won't work as your sole streaming option for cutting the cord and watching live sports, there is plenty of content here and sports coverage that is offered on the cheap, which can make it a great addition to your streaming lineup.
In our Peacock review, we'll go over the following: 
What is Peacock?
What Can Peacock Offer Sports Fans?
What Devices Work on Peacock?
What Features are Available with Peacock?
How Does Peacock Work?
How Much Does Peacock Cost?
Peacock Pros & Cons
FAQ
Is Peacock Worth It?
Keep reading to discover if Peacock is right for you…
What is Peacock?
Peacock is a streaming service that offers a huge on-demand library from NBC Universal and a decent selection of live sports coverage, including Premier League soccer, NFL Sunday Night Football, WWE, MLB Sunday Leadoff, cycling, and more.
Peacock is a little different from most streaming services because they offer a limited free plan that gives access to some on-demand content and channels.
Subscriptions start at $5 per month if you want live sports coverage, limited or no ads, and access to the full on-demand catalog.
The service is easy to sign up for, easy to use, and works on a variety of streaming devices.
Once you've logged into your device, it's as simple as choosing, clicking, and watching.
You won't have a thing to worry about when you sign up with Peacock because there are no contracts to sign. You're free to cancel your plan anytime you wish.
What Can Peacock Offer Sports Fans?
If you have at least $5 per month for the Premium plan, you can watch live sports online with Peacock! You will find a well-rounded amount of sports coverage, especially for the price.
While you won't receive access to every game of one of the various leagues airing on Peacock, you will have the opportunity to watch a lot of games in a lot of different sports. Some of the things you'll be able to watch with the NBC live stream include:
MLB (Sunday Leadoff)
NFL (Sunday Night Football)
Premier League
Tennis
Cycling (Tour de France)
Motorsports
Indycar
Horse Racing
Rugby
Golf
WWE
Simply put, at just $4.99 a month, Peacock is one of the best sports streaming services for the price.
If you think this sounds like enough sports coverage for you, try the service out with a free 7-day trial!
What Devices is Peacock Available On?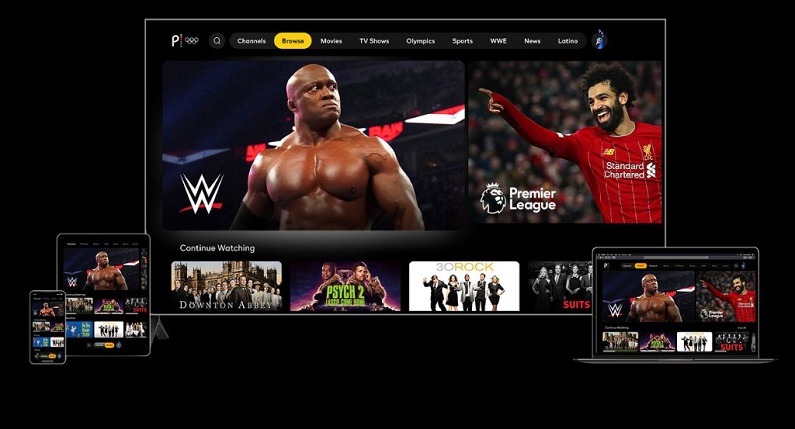 Peacock works on most devices. You can use your computer, smartphone, tablets, gaming consoles, and more. Here is a look at some of the compatible devices you can use to watch Peacock:
Smartphones (iOS/Android)
Tablets
Computer browsers
Gaming Consoles (Xbox & PlayStation)
Roku
Amazon Fire TV
Android TV
Apple TV
Chromecast
Smart TVs (Samsung, Vizio, LG, Hisense)
Cable Set Top Boxes (Cox, Xfinity)
What Features Does Peacock Offer?
Peacock is great in a lot of ways, but they are a little light on the features in comparison to other services. Peacock is one of those "what you see is what you get" kind of services. If you want some great TV, Peacock has your back. Do you want to watch all things WWE? Peacock has you covered! If you want a lot of features, this may not be the service for you. That said, here are some of the features you'll find with Peacock:
Family Style Accounts with 6 Profiles
Peacock allows you to create six profiles for your account. You can even designate Kids accounts, which filters programs to ensure they are age appropriate. After you make a profile, it will have its own favorites options, settings, and watch list. This means that everyone can watch whatever they want without having to filter through the rest of the family's viewing habits.
Universal Theatrical Films are Released 45 Days into Theater Run
If you loathe the idea of spending money at a movie theater, Peacock offers most Universal Films 45 days after those films were released in the theaters. This includes top name movies from the Halloween franchise or upcoming titles by director Jordan Peele. There are some exceptions with some films taking longer to arrive on Peacock, but most Universal films end up here and most of them arrive as early as the mentioned 45 days into the theater run!
Decent Sports Coverage for a Cheap Price
For just $5 a month Peacock gives you access to a pretty diverse sports lineup. Some options include Sunday Night Football, WWE, MLB Sunday Leadoff, soccer, golf, rugby, and much more. You won't receive every NFL game in the season, but for $5 a month, this is an excellent way to watch more sports on the cheap.
How Does Peacock Work?
Peacock is a straightforward primarily on-demand streaming service. You can watch thousands of hours of content including TV shows, Peacock Originals, and movies. Depending on your plan, you may also receive sports coverage and offline viewing options. Like all streaming services, in order to make the most of the service, you'll need a reliable internet connection and a compatible streaming device. Packages range from free to $10 per month, depending on what you're hoping to find.
Signing Up for Peacock
Signing up for Peacock is about as easy an experience as you can have online. You'll make a basic account with your login credentials, choose the plan you want, and that's really it.
Once you're done signing up you will be able to verify your streaming devices and begin browsing for something to watch.
Peacock offers a very basic layout, which makes it easy to figure things out even if you're not a very technical person.
Using Peacock
The basic nature of Peacock's interface makes it easy to use. If you've never used a streaming service, you'll find the learning curve is very minimal.
At the top of the page, you'll be able to choose from options like Channels, Browse, Featured, TV Shows, Movies, Kids, News, Sports, and Latino.
These basic options will take you to dozens of other options.
If you know what you want to watch, you can just search for it and go! If you want to browse, you can do that, too.
You can even save things to the My List section so that you can watch them later! You can stream on multiple devices as long as you can connect to the internet.
Honestly, streaming Peacock is as simple as pointing, clicking, and watching your favorite shows!
How Much Does Peacock Cost?
Peacock offers three plans, ranging from free to $9.99 a month.
Here's a breakdown of Peacock pricing and plans:
The first plan is actually free! You receive 40,000 hours of content. Ads are part of this plan, but since it's free, that seems fair. On the downside, the free plan does not include any live sports coverage. Instead, you just get access to a limited library of on-demand content.
The Premium (ads) plan is available for $4.99 per month. This plan includes the full 60,000 hours of on-demand content and it includes live sports coverage.
The Premium (No Ads) plan is $9.99 a month. This is essentially the same plan as the option with ads, but you also receive the chance to enjoy offline viewing.
Peacock Pros & Cons
Peacock is a great service, but there are a lot of great services out there. If you're considering signing up to this service, but aren't sure yet, here are some things about Peacock to consider:
Pro: Plans to Suit Everyone
If you can't afford it or don't want to pay for another service, Peacock offers a free plan. This plan comes with ads and only gives you access to 40,000 hours of content, but that should be enough to help you decide whether you want to pay for this service. If you pay just $5 per month, you get 20,000 additional hours of content and sports coverage. If you pay $10 a month, you get rid of ads and have the chance to enjoy Peacock shows offline. No matter what your price point is, there is something here for everyone.
Pro: Sports Coverage on the Cheap
Peacock offers access to a lot of different sports in packages as low as $5 per month. For just $5 you get access to MLB Sunday Leadoff, Sunday Night Football, and WWE programming. You'll also be able to watch Premier League football, Indycar, MotorSports, Horse Racing, Rugby, Tennis, Golf, and Cycling.
Pro: 40,000 to 60,000 Hours of Content!
Whether you choose the basic or the premium plan, Peacock offers a lot to love. While the amount of content is fabulous, what's even better is the content itself. On the TV end, you'll find shows like Parks and Recreation, Downton Abbey, Saturday Night Live, The Office, Yellowstone, House, and all the current NBC lineup. On top of that, there's all the original content that's available! As for movies you'll find Die Hard, Twister, Point Break, Pretty Woman, Friday, and so much more!
Con: Original Content can seem Limited
Original content is one of the biggest selling points to on-demand streaming services. Peacock offers loads of TV show exclusives that make a membership worth it. However, they are still considered a newer streaming service and because of that their original library is smaller than many other streaming services.
FAQ
What is Peacock?
Peacock is a streaming service brought to you by NBC. In addition to a wide variety of TV shows and live sports, you'll also find movies from DreamWorks, Universal Pictures, and Focus Features. This includes newly released titles like Downton Abbey: A New Era. Peacock also offers an increasing list of original content you can't find anywhere else like A.P. Bio, Girls5Eva, Rutherford Falls, Dr. Death, and many other titles. You can stream titles on a variety of internet-connected streaming devices.
How much is Peacock?
Peacock offers three basic plans. The first plan is free and gives you access to 40,000 hours of on-demand content. Unfortunately, this plan does not include any sports coverage. The other two plans are both considered the Premium plan. You can pay either $4.99/month (ads) or $9.99 a month (no ads). Both of these plans offer 60,000 hours of content, sports coverage for several sports, and in the case of the no ads plan, an option for offline viewing.
Does Peacock have a free trial?
No, Peacock no longer offers a free trial for its Premium and Plus plans, but there is still the Free plan that gives you access to a limited collection of content.
What devices are compatible with Peacock?
Peacock offers plenty of ways to connect to their app so you can watch your favorite shows. You can stream Peacock on Amazon Fire devices, mobile phones, tablets, select smart TVs, Apple TV, Chromecast, Roku, and gaming consoles.
Is Peacock Worth It?
Peacock is a great service. They offer a decent amount of sports coverage, plenty of older and new NBC shows, and a growing lineup of originals that are worth checking out. You can try Peacock for free by signing up for the limited plan with ads, which doesn't cost you anything! If you like it and want to add sports coverage, the Peacock Premium plan gives you plenty of coverage for just $5 a month. If you want to kick the ads and want to be able to view content offline, you can do so for just $10 per month. All in all, Peacock won't work for someone if they only want one streaming service, but if you like original content and want a mix of things to watch, Peacock is worth exploring.
If you want to give Peacock a try, you can sign up today.
Have any questions about our Peacock review? Let us know by commenting below.